SAFETY AND WELL-BEING
At CYDSA, the well-being of all its personnel is a top priority, and different Health Care and Safety Measures and Programs are carried out in order for employees to perform under proper working conditions.
CYDSA's Department of Medical Services offers quality healthcare services to employees, their families and members of its neighboring communities. In addition, the Department carries out preventive actions such as Clinical Examinations, Specialized Consultations, Acquisition of Medications and Vaccination Campaigns. Thanks to these and other efforts, the prevalence of various diseases has been reduced, resulting in a positive impact on the company's absenteeism and staff turnover indicators.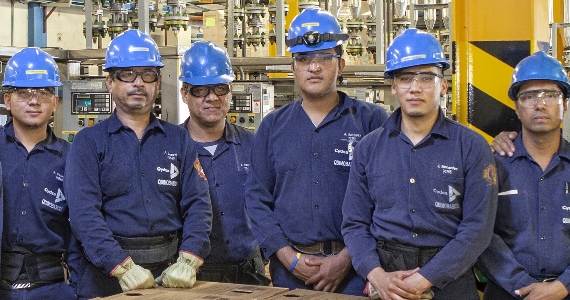 Moreover, at CYDSA's organizational units, Preventive Safety Plans have been designed with the neighboring communities, as well as Risk Detection Training and Safety Drills.
Additionally, audits are performed at each workplace, complying with International Protocols to Identify Risks and Prevent Accidents. Thanks to these measures, the accident incidence rate in CYDSA's business units is below the industry's average.
As a testimony of the company's commitment to safety, the Chlorine Institute granted CYDSA the Safety Excellence Award for its outstanding safety record: five years without accidents in virtually all of IQUISA's plants and 12 years without disabling accidents. Zero minor accidents and no occupational illness cases in IQUISA's Santa Clara Plant, as well as 10 years with that same record at IQUISA Tlaxcala.
Furthermore, in 2016, industrial safety studies were updated under the recognized Dutch Line Standard, one of the strictest criteria in the world, for all of CYDSA's plants, giving continuity to a practice of more than 25 years of risk studies in all of CYDSA's processes and allowing the company to comply with international safety and health standards.