Electricity and Steam Cogeneration
ELECTRICITY AND STEAM COGENERATION: In order to guarantee the competitiveness of its Business Units, in 2013, CYDSA decided to invest in the Electricity and Steam Cogeneration, aiming to supply its total energy needs and to include it as an additional Business Unit in its portfolio.
In March 2014, Plant I of the Electricity and Steam Cogeneration Business Unit started operations in Coatzacoalcos, Veracruz, with a maximum power of 57 megawatts of electrical energy and the capacity to produce 65 tons per hour of steam, using a natural gas turbine.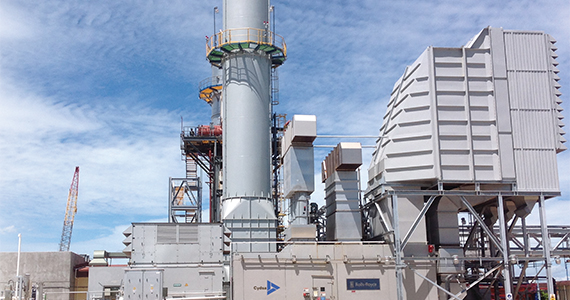 Plant II began operating its facilities in March 2016, with the same technical characteristics, installed capacity and location as Plant I. Plant II is intended to meet the energy needs of CYDSA's facilities not covered by Plant I.
Both Plants have been granted the Efficient Cogeneration Operation Certification by the Mexican Regulatory Energy Commission (CRE).
With both plants operating stably and according to their design capacity, the Cogeneration Business Unit will exceed CYDSA's total electricity needs. This surplus will grant CYDSA the opportunity to participate in the domestic electricity market, in accordance with Mexico's Energy Reform regulations.
LOCATION
COGENERATION PLANTS i AND ii
Centro Industrial Pajaritos Coatzacoalcos, Veracruz 96400 Tel. (921) 211-3400